Medzi Matovičom a Studenkovou to poriadne zaiskrilo! TOTO mu povedala do tváre
Hoci herečku Zdenu Studenkovú (65) takmer nič nerozhádže, počas natáčania Inkognita ostala v poriadnom šoku a ledva lapala dych. Za všetko mohol premiér Igor Matovič…
Do Inkognita prijal pozvanie skutočne vážený hosť. Hoci má toho teraz veľa, tajným hosťom bude premiér Igor Matovič. Keď vošiel do štúdia, namiesto toho, aby si to namieril k moderátorovi Vladovi Voštinárovi, tajne sa zakrádal za chrbtami hádačov a robil im rožky.
Pätica v zložení Michal Hudák, Marián Čekovský, Zuzana Šebová a Zdena Studenková v tej chvíli nemali ani tušenie, čo sa za nimi odohráva. No následne, počas celého hádania, mali veľkú zábavu. Keďže hneď na začiatku zistili, že tajný hosť nie je ani zo šoubiznisu, ani z umenia či zo športu, ale zrejme niekto z politiky, len vtedy ich žartíky vygradovali. ,,Takže politika tu máme," uhádol Hudák. ,,No zbohom! Tak pozor!" vykríkla Zdena. ,,Je aktívny v politike a stíha ešte aj sem prísť? Igor, ste to vy?" ironicky poznamenala Šebová a všetci spustili obrovský smiech.
,,Pozor, keby to bol Igor, Vlado by od neho musel mať 2-metrový odstup,"uťahoval si ďalej Mišo Hudák. ,,Teraz či som ho volila, alebo nie…" provokovala ďalej Šebová. To, že naozaj ide o predsedu vlády Igora Matoviča, nakoniec uhádla Zdena Studenková, ktorá z jeho prítomnosti ostala v totálnom šoku. ,,Fuuu!" chytila sa za hlavu, keď ho pred sebou zbadala.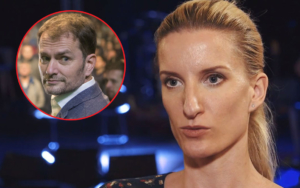 Toto musíte vidieť…
,,Ste nám teda dali," chytala sa ďalej za srdce Zdena, ktorá sa mu pochválila, že v to ráno ju dokonca trikrát nepustili do obchodu, čím dala jasne najavo, že na 65 rozhodne nevyzerá.Následne sa však výborne bavila na jeho príhodách a neustále sa nahlas smiala. A niektoré jeho historky boli skutočne zaujímavé. Hlavne spomienka na jeho východniarsku svadbu, keďže on ako Trnavčan má manželku práve odtiaľ. ,,Moja manželka stále pokušiteľsky rozmýšľa, či by sa nedalo spochybniť naše manželstvo. Ja som sa totiž za tých starých čias lúčil so slobodou noc pred svadbou. Stále spochybňuje, že počas obradu som nefúkal, tak či to vôbec je platné, alebo nie je," vtipkoval Matovič.