Nechcené priznanie? Pročko sa utrhol z reťaze: "Každý deň som naliaty ako čík…!"
Len nedávno poslankyňa za OĽANO Romana Tabák prezradila verejné tajomstvo o tom, ako sa pije alkohol v parlamente. A spustila sa mela.
Tabák reagovala na to, že sa jej humoristická stránka Zomri vysmievala, že si parlament pomýlila s tenisovým kurtom. Počas rozhovoru pre médiá, totiž držala v ruke tenisovú raketu a bola športovo oblečená. "V parlamente poslanci pijú jedna radosť! A ľudia sa pohoršujú, keď si z práce idem zahrať tenis," frflala poslankyňa a prezradila tak tajomstvo z národnej rady.
Okamžite sa vyrojili poznámky od fanúšikov, že to vidno najmä na poslancovi Jozefovi Pročkovi. Bývalý televízny zabávač diskusiu poriadne sledoval a zareagoval. "Presne. Každý deň som naliaty ako čík a Karol Musk alias Romana Tabák sa na to už nemôže pozerať, tak aspoň takto na mňa upozornila," penil poslanec za OĽANO, ktorému neraz fanúšikovia vyčítajú, že vraj pije veľa alkoholu. Diskutujúci Pročkovi tvrdil, že si to nevie inak vysvetliť, pretože poslanec vehementne obhajuje akékoľvek činy šéfa Obyčajných ľudí.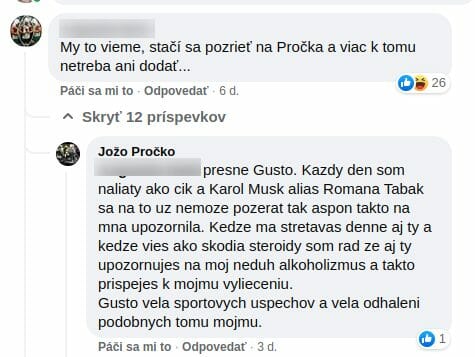 "Aha. Čiže keď má niekto iný názor na Matoviča ako ty, tak je ožratý," bránil sa Pročko. Poslanec sa už v minulosti nechal počuť, že by nemal problém s tým, aby poslanci "fúkali" či dokonca, aby boli testovaní na prítomnosť drog. "Spytoval som sa, či by to v parlamente prešlo, že by ľudia podstupovali test na kokaín. To by ste sa čudovali, koľko ľudí by potom v parlamente nebolo. A tiež na alkohol. Pretože tá zadná rada, čo sú tam chlapci zo Smeru, tak keď prejdem okolo, to je ako v pálenici. Len neviem, či to v parlamente prejde a kto donúti poslanca národnej rady, aby fúkal alebo podstúpil test na kokaín," povedal v minulosti.