Žilinkova reakcia na mediálny a politický tlak: "Neuhnem ani o milimeter."
Na osobu generálneho prokurátora Maroša Žilinku sa to v poslednej dobe sype z každej strany. Od koaličných politikov až po rôzne mienkotvorné média. Vládnuce strany SaS, Za ľudí a OĽANO Žilinku kritizujú za jeho doposiaľ vykonanú prácu. Kollárova strana Sme rodina však v šéfovi Generálnej prokuratúry problém nevidí.
Koaličné strany za "pomoci" médii volajú po odchode Maroša Žilinku z postu generálneho prokurátora. Ten sa však obhajuje tým, že si nie je vedomý žiadneho pochybenia z jeho profesionálnej stránky a podľa neho vykonáva svoju prácu len v súlade so zákonom.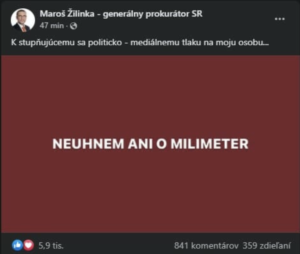 Pred pár dňami dostala dohoda o obrannej spolupráci Slovenska s USA v parlamente zelenú. Expresne podpísanú zmluvu zo strany prezidentky Zuzany Čaputovej kritizoval aj Maroš Žilinka, ktorý vyslovil voči dohode vyše tri desiatky pripomienok.
Počas mimoriadnej schôdze Národnej rady dokonca požiadal plénum o možnosť vystúpiť a referovať jednotlivé poznámky samotným poslancom. To však vzbudilo vír kritiky. Žilinku označili koaličníci aj za akýsi "nástroj opozície". Vo veľkom sa začalo hovoriť aj o jeho pripravovanej prezidentskej kampani.