Matovič píše na Facebooku sestričkám! "Asi sa mi sníva…" klope si na čelo Raši
Vláda zrejme ešte vo štvrtok zverejní návrh na historicky najvyšší nárast platov zdravotných sestier v nemocniciach. Na sociálnej sieti o tom informuje minister financií Igor Matovič (OĽaNO). Ako dodáva, navrhnú zvýšiť aj základný plat, aj zavedenie príplatku za roky praxe.
"Predlhé roky naša vrchnosť na nich kašlala. Zvysoka. Neštrajkovali, nehrozili výpoveďami ako niektorí lekári, nehádzali plášte, tak zrejme vrchnosti za to nestáli. My v OĽaNO sme sa rozhodli, že sestrám dôstojnosť vrátime … a preto sme dali na kandidátku šéfku ich odborov – Moniku Kaveckú, ktorá je dnes našou poslankyňou," uviedol Matovič.
Taktiež pripomenul, že bolo vcelku zaujímavé rokovať o vyšších platoch sestier s odborárkou, ktorá je zároveň kolegyňou. "Úplne najviac si cením, že od sestier ani náznakom, ani len raz nezaznelo nejaké vyhrážanie výpoveďami, hoci všetci ľudia v zdravotníctve vedia, že sestry sú najviac nedostatkovým povolaním," uzavrel.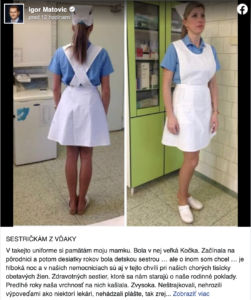 Na Matovičov status už reagoval podpredseda strany Hlas-SD Richard Raši. "Matovič v noci oznámil zdravotným sestrám, že oni v OĽaNO sa rozhodli im pridať na platoch, lebo sestry poslúchali, nevyhrážali sa výpoveďami, lebo majú Moniku Kaveckú, lebo Igorova mama bola sestrička… Asi sa mi sníva! Oni v OĽaNO…," zhodnotil.
Zdravotné sestry potrebujú zvýšiť platy, ako však upozornil, v zdravotníctve sú aj iné povolania. Zdôraznil, že šéfka sesterských odborov Kavecká, za dva a pol roka v parlamente nenavrhla zvýšenie platov sestier. "Šéfka sesterských odborov Kavecká, mimochodom stále obvinená za machinácie vo verejnom obstarávaní, už dávno nie je sestra. Je starostka, Matovičova verná poslankyňa, ktorá sedí v parlamente od jari 2020. A viete koľkokrát za dva a pol roka navrhla zvýšenie platov sestier? Ani raz! A nielen v parlamente, ani na zdravotníckom výbore."
"A ešte jedna poznámka. Sestry sa výpoveďami nevyhrážali, ony rovno zo zdravotníctva odchádzali, keď im to zrušením núdzového stavu po covide umožnil. A odchádzali nie v desiatkach, ale stovkách, možno v tisícoch. Tieto údaje vláda nikdy nezverejnila," doplnil Raši.