Orbánovi stačil na medzinárodný škandál kus oblečenia! Rezort diplomacie to označil za neprijateľné
Predseda maďarskej vlády Viktor Orbán spôsobil medzinárodný rozruch, keď vo videu zverejnenom na Facebooku pózoval so šálom s mapou veľkého Uhorska.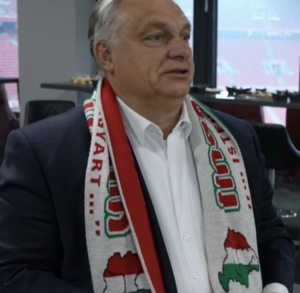 Rumunský rezort diplomacie v pondelok vydal vyhlásenie, v ktorom označil Orbánov prejav za neprijateľný, uviedlo internerové vydanie denníka Népszava. Informuje o tom spravodajca TASR v Budapešti.
Podľa Bukurešti je revizionistický prejav Orbána neprijateľný a v priamom rozpore so súčasnou realitou.
Kauzu si všimol aj nemecký spravodajský server Spiegel.de v článku pod titulkom "Orbán provokuje odkazom na väčšie Maďarsko". Orbán sa na videozázname po nedeľňajšom futbalovom zápase maďarskej reprezentácie proti Grécku lúči s odchádzajúcim rekordným 109-násobným futbalovým reprezentantom Balázsom Dzsudzsákom.
Veľké Uhorsko zahŕňa okrem samotného súčasného Maďarska aj časti území Srbska a Ukrajiny, ale aj časti členských krajín Európskej únie Slovenska, Rakúska, Chorvátska a Rumunska.
Predsedu maďarskej vlády Viktora Orbána za pózovanie so šálom s mapou veľkého Uhorska kritizovalo po Rumunsku už aj Chorvátsko a Ukrajina. Upozorňuje na to webová stránka komerčnej televízie ATV, informuje spravodajca TASR v Budapešti.
"Čo sa týka šálov, tie som nevidel a nechcem riešiť cudzie šály. Čo sa však týka územných nárokov voči Chorvátsku kohokoľvek, vrátane Maďarska, tieto sú pre nás absolútne neprijateľné, to pre nás nie je právo slobodnej voľby," vyhlásil chorvátsky premiér Andrej Plenkovič.